PERSONAL INJURY LAWYER SYDNEY
Our experienced lawyers will maximise your entitlements in the most effective way possible.
We have won several awards including APAC's coveted Best Personal Injury Law Firm Australia 2021.
50+ Years of Combined Experience litigating Personal Injury Cases means a successful outcome is on the table.
5 Star Reviews Everywhere
We're in it to win it and we fight hard for our clients. That's why anywhere you look you will find only 5 star reviews.
If your case is important to you it's important to us. Call Jameson Law and join the winning side today.
Don't suffer financial hardship from your injury
If you have been injured due to an incident then you have come to the right personal injury law firm. Depending on your situation, you may be entitled to claim compensation for all your medical expenses as a result of the injury you sustained. You may also be eligible for either or both past and future economic loss plus a potential lump sum payment. This is calculated on the basis of hindrance this accident has had on your enjoyment of life such as no longer being able to play footy with your kids or lift weights in the gym.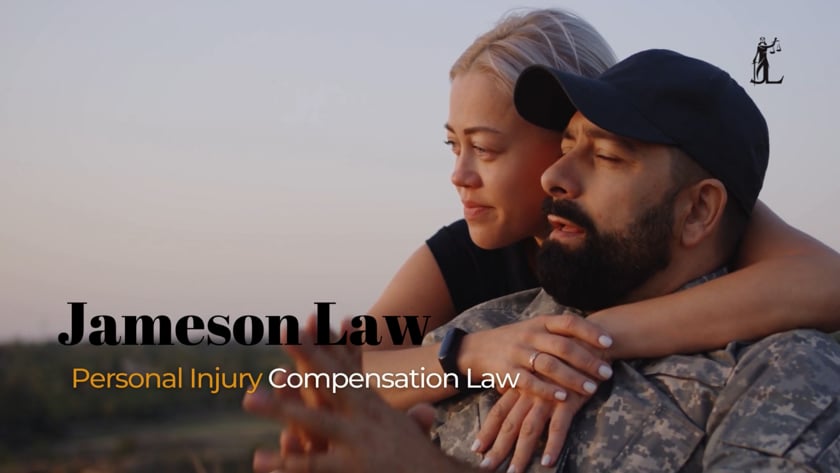 What does Personal Injury Law in Sydney entail?
Personal injury law entails any physical or psychological damage that you have suffered as a result of another individual or responsible party's faults or negligence. While a personal injury can be seemingly minor, it's crucial for you to be acquainted with the injury law, since you may be entitled to personal injury compensation. Personal injury claims are the most common types of claims in Australia. Personal injury claims, also known as compensation claims, are the most common types of claims in Australia.
Personal injury is an injury that a person sustains as a result of another person's negligent act or omission; that is through the fault of another person. The injury can be a physical injury or a psychological injury.
Personal injury law is established to compensate the injured person for medical treatment and expenses, loss of income and pain and suffering resulting, Speak with a personal injury lawyer Sydney locals have used to win their claims.
Basically, a personal injury claim is comprised of 2 elements which must be satisfied:
You sustained an accident injury as a result of an act or omission by another party which is in one way or another, a breach of their duty of care towards you. 
The injury you sustained has caused you loss or damage, such as economic loss, medical expenses, loss of enjoyment of life and other heads of damages for which you will need to be compensated. 
The most common types of personal injury claims arise from the following situations:
Motor vehicle accidents

Workers' compensation or work-related injuries 

Medical Negligence or medical malpractice 

Public Liability or accidents in a public space  

Comcare 

Victims Compensation 

Product liability 

Personal Injury Compensation Claims Process
The process of bringing a claim is different for each type of personal injury claim. For example, motor vehicle accident and workers compensation claims are commenced by lodging a claim form with the relevant insurer.  It's always best to start with a Sydney compensation lawyers opinion with a consultation. Medical negligence and public liability claims on the other hand, are initiated by filing court proceedings.
Personal injury compensation is not governed by Commonwealth law but rather New South Wales (state) legislation. This means that each state in Australia has its own compensation laws. What this means for you is if you have an accident or sustain personal injury in NSW, your claim should be lodged in NSW and therefore NSW compensation law applies. You can not lodge the claim in a different state, such as Queensland even if you ordinarily reside in that state or territory. Always consult with your specialist personal injury law firm for professional advice.
There is also a time limit within which to bring a claim for each type of compensation. Generally speaking, a limitation period of 3-years applies across all types of claims. However, the complexity in determining whether the 3 years have lapsed is trying to ascertain when they commence. The reformed Limitation Act 1969 has since 2002 altered the date on which these 3-years commence. The time limit within which to bring a claim in accordance with the 2002 Act is 3-years from the date of discoverability and not necessarily the date of accident or incident. The meaning of 'discoverability' is also covered in the act. The following case study will give you a better idea of what we are talking about:
Personal Injury Class Actions
Class actions can also be brought under one of the types of compensation claims when the negligent act of the person or company against whom the claim is being brought, has affected a large number of individuals as opposed to a single person. 
If you have been injured through no fault of you own and suffered loss as a result, speak to one of our Solicitors today about your entitlement to make a personal injury claim. 
The majority of personal injury claims are settled outside of court. This is done through dispute resolution, either by way of informal settlement conference or mediation. One of these types of dispute resolution are always attempted before the matter proceeds to assessment conference or hearing to be determined by an Assessor or Judge.
No Win No Fee
Generally, compensation claims are run on a No Win No Fee basis which means that you don't pay a cent on legal fees if you are unsuccessful, however be weary that most solicitors still charge for disbursements (that is any costs other than their time that they incur). This can still amount to a fairly hefty bill. 
At Jameson Law, we have a guaranteed No Win No Fee Agreement including any disbursements we incur to run your case. This means that if your claim is not successful, we do not charge you anything. This allows us to maintain a high rate of success as we will let you know upfront, if we feel that your case will not win. 
Any costs payable to Jameson Law will be deducted from, and will not exceed, any compensation that you are entitled to receive meaning you will not pay anything out of pocket.
We are your local specialist personal injury lawyers Sydney who have helped 
When Should I Contact a Personal Injury Lawyer Sydney?
It is always important to contact us and book in an obligation free initial consultation as soon as you are made aware of any injury that you have incurred directly or indirectly from the result of an accident and/or negligence. This is primarily due to the fact that certain Personal Injury claims must be placed within certain timeframes known as limitation periods. Our initial personal injury consultation will give us a starting point to establish information we need to establish liability, injury and ensure your claim has a high chance of success. 
How do I prove pain and suffering?
Pain and suffering are proved by medical evidence. This includes clinical notes and reports from treating doctors, diagnostic imaging reports (x-rays, MRIs, CT scans) as well as obtaining reports from doctors who are authorised to comment of the degree of impairment.
The maximum amount of compensation that can be awarded for pain and suffering is $521,000.

Can I make an additional claim with my Superannuation insurance?
Definitely. If you are unable to work in your occupation as a result of the accident, then we will compile a TPD claim with each of your superannuation providers with whom you are insured.
TPD is different from regular personal injury claims as the entitlements are awarded by the superannuation fund. TPD is an insurance cover that most superannuation funds provide to their clients.
To be eligible to claim for TPD;
you must have suffered an injury or illness
this injury or illness is the reason that you have ceased work
you have not been working for the past 3 months
you are unable to return to your usual occupation
Though you can lodge a claim for compensation on your own; it is important to seek legal advice from a personal injury lawyer who will ensure that you collect the right evidence to prove your case, and have taken best approach to maximise your entitlements and damages.
Personal injury cases are taken on by our firm on a no win no fee basis. This means that if we do not win; we will not charge you for the work. Our legal fees are only payable upon the successful completion of your matter.

What are the most common types of Personal Injury Claims?
What are the most common types of Personal Injury Claims?
Motor Vehicle Accidents
If you have sustained an injury in a motor vehicle accident through no fault of your own, either physical and/or psychiatric in nature, you may be entitled to make a claim.
Car and other motorised vehicle accidents are an everyday occurrence in every Australian state, and therefore there are strict rules and regulations governing compensations for victims of such accidents. You will need to speak to a personal injury lawyer to establish whether your injuries will entitle you to a compensation claim.
Lawyers at Jameson law can assist you in your personal injury claim if you have been injured as a result of a car accident which occurred in NSW, QLD, VIC and the ACT.  As noted above, motor vehicle accident claims are commenced by lodging a claim form with the relevant CTP insurer. The claim form is uniform across all insurer's and can be obtained from the State Insurance Regulatory Authority (SIRA) website, which is the board that regulates motor vehicle accident claims in NSW.
There has been a drastic change to the motor vehicle accident claim process in NSW since December 2017 following the implementation of the  Motor Accident Injuries Act 2017 NSW. It is recommended that you speak to a Lawyer immediately or as soon as possible following a motor vehicle accident to ensure that your claim form is lodged within the time limits. A claim for weekly benefits should be lodged within 28 days. 
If you have been involved in a motor vehicle accident involving a car or motor vehicle on the road, visit our road and car accident page for more information on how to make a claim.
Workers Compensation
Employers are bound by the law. Employers are bound by the law to provide a safe working environment for their employees and to take all precautions to eliminate risks and prevent injury. If an employee has been injured at work, they have entitlements to claim for personal injury compensation. Worker's compensation also covers dust injury claims for example asbestosis which is a disease caused by the inhalation of asbestos fibres for an extended period of time.  
Visit our Workers Compensation page to see if you are entitled to make a claim.
Public Liability
Public places such as shopping centres, schools, supermarkets, footpaths and roads ought to be safe for all people. Owners and/or people responsible for public places must take all necessary actions to ensure that their patrons are not at risk of sustaining personal injury or harm. 
If you have been involved in an accident in a public place, contact our law firm to speak to a personal injury lawyer about your potential of recovering personal injury compensation.
Medical Negligence
Every health professional such as a GP, surgeon or a dentist has a duty of care towards their patients. 
Medical malpractice is when a medical professional breaches their duty of care and causes injury or harm to their patient through an act or an omission of an act- that is a failure to do something. his does not have to be an intentional act or omission.
Once it is established that duty of care has been breached and an injury has been sustained as a result; this gives rise to claim for personal injury compensation. Visit our medical negligence page for more information.
Abuse Claims
The Australian law provides a detailed compensation scheme for those who suffered institutional sexual abuse, along with civil claims against the perpetrators for pain and trauma. Due to the claims' sensitive nature, time limits are of the essence. If you're a survivor, reach out to us as soon as you can and book in an initial consultation.
Product Liability
The Australian law protects consumers against faulty products by imposing a duty of care on companies to produce faulty-free products.
We can make a personal injury claim on your behalf under product liability in the case of defective components, machinery, or vehicles, hazardous chemical products or pharmaceuticals, faulty goods, electronics, or appliances, and medical devices or implants which don't perform their functions and instead cause personal injury.
If you've encountered a similar situation, our team can provide you with adequate legal advice to proceed with your compensation claim.
Income Protection and Total and Permanent Disability (TPD) Claims
TPD is different from regular personal injury claims as the entitlements are awarded by the superannuation fund. TPD is an insurance cover that most superannuation funds provide to their clients. It can also often be made concurrently with a personal injury claim.
To be eligible to claim for TPD;
you must have suffered an injury or illness 
this injury or illness is the reason that you have ceased work 
you have not been working for the past 3 months 
you are unable to return to your usual occupation
Disclaimer
The above is general legal information and should not be considered legal advice. You should speak with one of our personal injury lawyers for legal advice tailored to your specific legal matter.
Book your Personal Injury consultation today
Frequently Asked Questions.
Book your free consultation